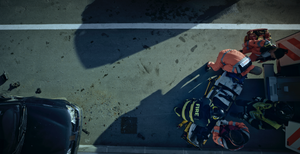 Place the box on a firm surface, press down on the top-center of the box. This will help release the clip.
Contact your sales representative or us directly @ 855-426-0321. We will make sure you receive the correct items per your requirements.
Product can be rinsed clean with water and allowed to air dry after each use. A teaspoon of dish soap in a gallon of water will help in remove substantial grime.
Do not get the electronic components wet
Install a wound with male connector into the female end of the blue line and squeeze the air out of the bladder until only fluid exits.